Apple leaf bdr & cnr a (3)
$20.00 USD
Great free-flowing designs, which give the appearance of free-motion quilting. These patterns work exceptionally well with variegated thread.
The borders can be placed using the p2p function if required.
Two lengths of border are included in this set - I have found that having both options has been very useful from time to time.
There are more than 40 patterns in this design range - all sorts of block shapes are catered for.
Quilt Gallery Examples
Hopscotch

:

uses this pattern in the outer border, and in the unpieced bar. The quilt also uses the companion patterns Apple leaf bdr a cnr and Apple leaf bdr a short

Jocelyn's Monet

:

used this design in the outer border - not obviously noticed - quite subtle.
Other patterns of this type can be found by searching for
Blocks: Bars & bdrs 4 Bars, Borders & Corners, Sets
Themes: Botanical, Sets

Sharon Perry
Items in Set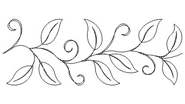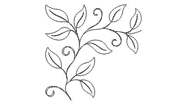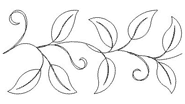 Quilting Gallery Examples
(click on image to go to this item)